Warming soups for winter noursihment
by Misa Chappell, Woodbury Magazine--
Woodbury, MN December, 2014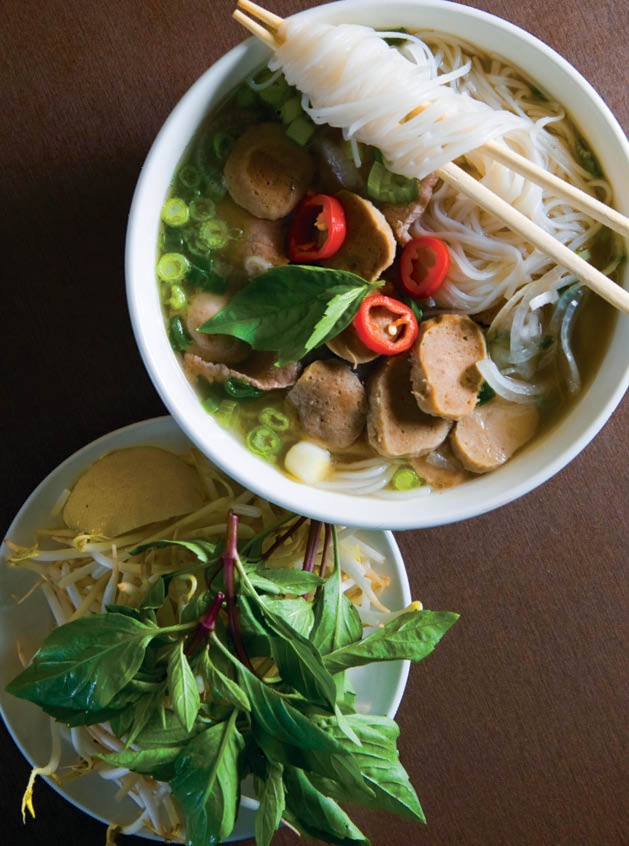 The colorful and flavorful rice stick soup, called pho, is from Duc's Vietnamese and Chinese Cuisine.
Photo by: Emily J. Davis

A good bowl of soup has the power to heal, comfort and fortify; in fact, every spoonful can heat a person's very bones. There is a veritable kaleidoscope of soupy soul cures out there, from the classic to the exotic, and at this time of year we need all of those things in a big way. We've gathered some of our favorite soups to ease and please on even the darkest, coldest day. You're welcome. (All prices are per bowl unless otherwise indicated.)
Rice Stick Soup (Pho)
Duc's Vietnamese and Chinese Cuisine
Every culture has an apocryphal hangover cure and in Vietnam, beef noodle soup, called pho, will cure what ails you. Pho has attained near cult status here in the states: Google the word and witness the ensuing flood of lists and arguments. Pho starts with a gently beefy, lightly sweet broth; springy rice noodles make a nest at the bottom of the bowl. Sliced beef and intensely flavored meatballs complete the picture. The excitement comes from the accompanying plate of DIY condiments: lime, sliced jalapeno, mung bean sprouts and purple-leaved Thai basil. We like ours heavy on the herbs with a healthy shot of Sriracha sauce; the fiery brew is restorative and addictive. $7.95.
783 Radio Drive; 651.735.1044.
Chicken Enchilada Soup
New Woodbury Cafe
This breakfast and lunch joint offers a daily special of wonderful house-made soups, but one fixture is the enchanting chicken enchilada soup, sort of a liquid version of one of our favorite Mexican dishes. It's made with enchilada sauce (chili peppers, tomatoes and spices), tender white meat chicken and melted yellow cheese. It's a wee bit spicy—perfect for our bashful Northern palates—and as cheesy as the enchilada of our dreams. It comes garnished with tortilla chips. Cup $5.95, bowl $6.25.
803 Bielenberg Drive; 651.209.8081.
Nabe Yaki Udon
Osaka Restaurant
Nabe yakei udon ("hot pot udon noodle") is a traditional one-bowl Japanese meal and Osaka makes a heavenly one. Udon noodles are fatter and squishier than other noodles; coiled up in a lightly flavored broth with chicken, carrots, mushrooms, scallions and spinach, they practically dissolve in your mouth. Special features include a boiled egg and a slice of fish cake, a curious looking white and pink disc that is dense on the tooth and mild on the tongue. Hot shrimp tempura lounges on the surface like a bathing beauty; eat it before it gets soggy. $15.95.
9000 Hudson Road; 651.731.3333.
Tomato Basil
Sail Away Cafe
There's nothing like homemade soup, but the problem is that it's supposed to be made at home. Uh, who has time for that? Happily, the Sail Away Cafe specializes in "homemade" soups (which means made from scratch and in-house). The cafe offers a changing roster of three or four soups per day, and rocks about 25 recipes in the entire repertoire. It's the spot to curl up with a steaming bowl after a ski at nearby Afton Alps. The tomato basil is one of their most popular soups. The chef begins by sautéing a traditional mirepoix—a mix of diced onion, celery and carrot—which is cooked down and pureed with good tomatoes and lots of basil. The depth of tomato flavor is even more mind-boggling alongside their gooey, three-cheese grilled cheese sandwich. $5.
3121 St. Croix Trail S., Afton; 651.436.6555.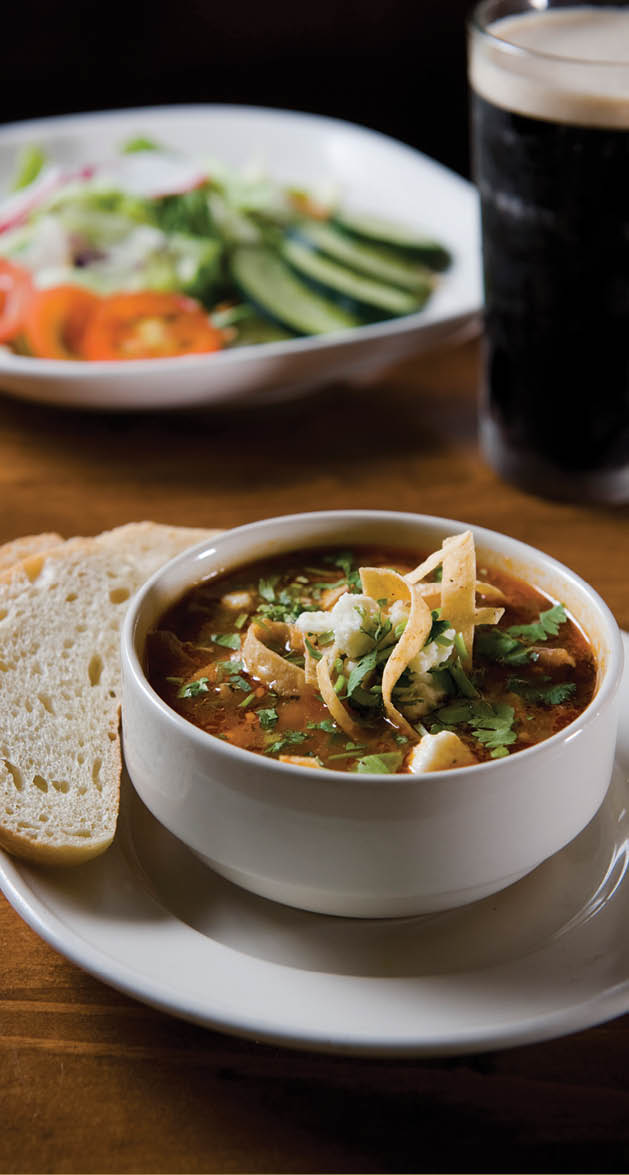 Homemade Wild Rice
Cravings Wine Bar and Grille
This Minnesota classic is simultaneously grounding and uplifting, which may be the ultimate goal of our hibernal cuisine. Wild rice is a local crop and rich in good stuff like protein, lysine and fiber. The indigenous Ojibwa tribe held wild rice sacred; we still cherish it for its nutty, chewy goodness. Wild rice soup is calming during any season, especially with that bolstering shot of local pride. Chicken, celery, onion and lots of wild rice (which happens to be gluten-free): simplicity itself. $6.
755 Bielenberg Drive; 651.528.6828.
Old-fashioned Chicken Noodle
Craft Kitchen and Bar
Chicken soup, a.k.a. "penicillin," is the blessed stuff of childhood: familiar and ameliorative. Craft puts together a luscious version with pulled chicken, carrots, celery, onions and "home-style" chicken stock. It's filled with fresh chopped herbs and infused with a deep chicken flavor. Pure comfort in a bowl. $4.25.
700 Commons Drive; 651.735.1997.
Tortilla Soup
Bonfire
The tortilla soup at Bonfire is, according to the menu, "the best in the Twin Cities," quite an eyebrow-raising claim. It indicates that the kitchen pays special attention every time they make it and takes pride in the result. One slurp is convincing enough for us; we advise that you surrender to the intriguing layers of spice, tomato, chicken meat and tortilla strips. The chili zing enhances the warming effect. The best garnish? Cool, silky sour cream. $5.45
1424 Weir Drive; 651.735.0085.
Dal
India Palace
Dal means "split" in the Sanskrit language, which refers to the beans or lentils that form the bulk of this stew-like soup. There are a gazillion and one ways to make a dal; every region in India has a distinct version, as do Pakistan, Iran, Bangladesh, Sri Lanka and Afghanistan. At India Palace, red lentils go for a long simmer with a deft blend of Indian spices (we detected turmeric, ginger and cumin for sure), garnished with a bright pop of fresh cilantro. It's delicious, and somehow manages to be both exotic and reassuring at once. $3.99.
8362 Tamarack Village; 651.731.6300.